Yesterday I woke up at 5am...couldn't get out of bed till closer to 6am. I got up, did my morning run, took a shower, drove 45 minutes to work, ran to Old Navy for a return and scurried back to work before it was time to unlock the doors. There I proceeded to work 10.5 hours, drive 45 minutes home and then get right to work on wedding projects. These two projects that were not even on my to-do list until sometime yesterday afternoon. I worked till close to midnight and then did my best to fall asleep. Fall asleep I did. Sometime between 12am and 5:30am I swear I ran a marathon...in my sleep. I woke up exhausted. EXHAUSTED! My dreams consisted of a never-ending to-do list. I was running around trying to do every last thing. Needless to say, I didn't drag myself out of bed until closer to 6:30am today.
Today I fought with the snooze button from 5:30am and 6:30am. I finally dragged myself out of bed and hit the treadmill, the shower, and the 45 minute commute. I made it to work and then had to rush to Store A (where I was stuck in line behind 3 of the sloooowest human beings ever) and then to Store B where I almost got ran over on my way out the door. Dear Old Man in the Green Truck clearly didn't feel like the STOP FOR PEDESTRIANS sign was for him because he unneccessarily slammed on his brakes, flipped me the lovely bird, and yelled something in typical grumpy old man fashion. I flashed him a smile and "peaced" him as I mumbled something in snooty 29 year old fashion. I don't know why I threw up the peace sign, but I did. *laughing at myself*
After another 10.5 hour day and another 45 minutes behind the wheel, I am now home. I have two fabulous things to check off my list! Here are a few photos. I will post some better quality ones later on. For now, mobile uploads will have to do.
Personalized, hand-painted aisle runner - CHECK!
Won't this look beautiful sprawled out on the sandy beach? It is 100 feet long and I hand-painted our monogram 3ft x 3ft about 10 feet from the bottom. I am in love!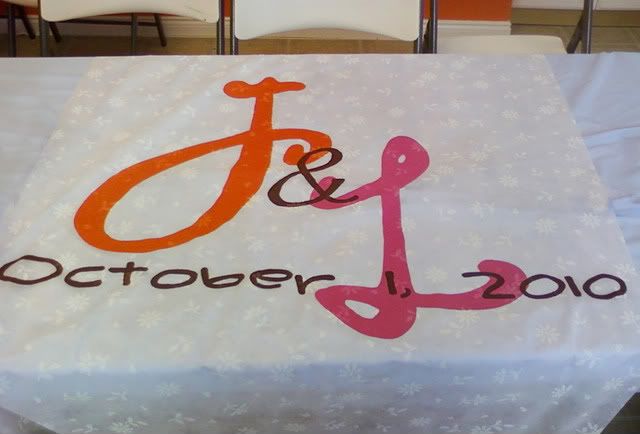 Photo frame card holder box - CHECK!
This is all pretty much upcycled. I had some old plain mirrors from Ikea. I sanded them and painted them a rustic brown. I used some old board, old towels and a bit of new pink satin to create this. I will insert 4 of our engagement photos in place of the mirrors when the time comes. For now...a little pic of our boy, Diesel.